5 Tips for Starting a Skincare Business
Starting a new skincare business is an exciting prospect and working for yourself is full of possibilities. You could increase your income, lead more of a work-life balance by managing your own time and turn "work" into a passion. Starting a new business in the Aesthetics industry certainly has a great deal of potential when we look at the current statistics on the industry's growth over the years.
The number of women in the US aged between 19 and 34 having cosmetic procedures has risen by 41% since 2011, according to The American Society for Aesthetic Plastic Surgery. It is believed the UK is following a similar trend but there are no official figures as yet. The cosmetic surgery industry in the UK is worth £3.6billion. Non-surgical treatments such as Anti Wrinkle injections, Chemical Peels and Microneedling account for nine out of 10 procedures and are worth £2.75billion.
So….. if you are new to the industry and potentially a brand new business owner, where do you start? Use these top tips to help you;

Choosing Skincare Treatments for Your Business
This most definitely is your first step. What are you passionate about? What do you want your final treatment menu to look like? This step could (and should!) take time, as it will ultimately become the foundations to the future success of your business.
Try not to get weighed down with the feeling that you need to be offering 20 different treatments instantaneously. After all, you don't want to become a jack of all trades and a master of none! Whether your background is Medical or Beauty, you have a large number of treatment options to choose from so this can be an exciting process to go through. For advice and guidance about which treatments to start with, contact us and we will be able to help you.
Training in Skincare
Those already with prior qualifications can gain access to some of our most popular aesthetic courses such as Microneedling, Skin Peels and Dermaplaning or our one day intensive course which focuses on three treatment modalities together. If you are a medical professional wishing to learn a softer approach to treating the skin, we also offer a one day facial course to teach you massage techniques such as "effleurage" and "petrissage" for the ultimate customer experience. From cleansing, applying a mask and finishing with the correct post procedure products. All courses can be browsed here.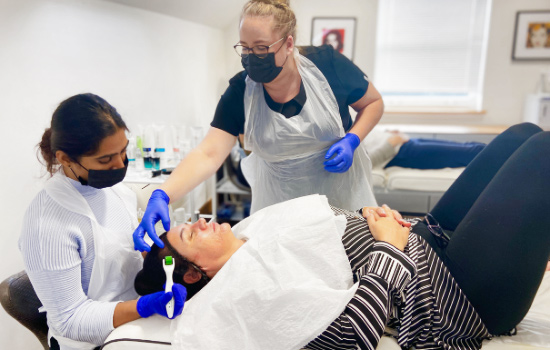 The right mix of theory and practical elements are key to any training course. We make sure that we get the balance between theory and practical just right whilst providing student with extensive manuals to refer back to at the end of training.Ultimately, the end result of any training course that you attend should be that you feel empowered with the knowledge to carry out the treatment and full of confidence in your ability to do so.
Insurance
As stated above, make sure that your training allows you to seek the proper insurance first of all and that you are covered from the moment you intend to begin carrying out treatments.
Investing in Skincare Equipment
New business ventures inevitably require some level of investment. The extent of that investment is dependent on the treatments that you have chosen to undertake. Large investments early on, such as Laser equipment can be difficult to create profit from, especially if your business venture is a solo affair. You'll be pleased to know that equipment doesn't always have to cost the earth.
A full skin Peel kit from Skin Health Solutions will cost you just £425, giving you enough to carry out approximately 200 treatments! Devices such as the Microneedling Dermafix Pen, LED and an 8in1 device incorporating treatments such as Microdermabrasion, Ultrasound Cavitation and Radiofrequency (to name a few) are available to purchase using 0% finance allowing you to spread the cost of your new business and avoid the headache of large capital outlay right at the beginning.
Marketing your Skincare business
You've chosen your treatments, you have your training certificates to hand, now you need some clients to treat! You'll be surprised how many new friends you have when they find out about the amazing new treatments you are offering. Offer a family/friends discount in return for being able to use their photographs for promotional purposes (don't forget, when purchasing any Skin Kits from Skin Health Solutions, we provide you with before and after pictures to help with promotion!). There is nothing better than being able to showcase exactly what your treatments can achieve.
Free platforms for marketing should always be utilised. With 95% of 16-24 year olds owning a smart phone, a lot of our free time is spent on social media platforms which creates a large potential captive audience for you to put your business in front of.
Social media is not the only tool you have at your disposal to grow your practice. Word of mouth is 100% the best form of marketing that can potentially drive your business forward. Client reviews and recommendations will mean that you quickly build up a positive reputation.

Also, don't forget that It is easy in any business to focus heavily on trying to obtain new clients, however, the clients that you already have coming through your door are your biggest asset. Re-selling, selling courses of treatments will mean that you create regular customers who begin to rely and trust in your brand and results. It is so rewarding being able to develop new relationships with the clients who come to you for treatment.
Professional Development
Once you have your foundations and core knowledge, it is essential to continue with your professional development and keep updating your skills where possible. The Aesthetic industry is exciting, it is also very quick to change so as a practitioner/ Therapist, you must always stay up to date. By choosing Emma Coates Aesthetic Training to begin your career in Aesthetics you will receive support and aftercare long after attending your initial training course. With such a wide range of courses to choose from, and a firm support structure in place we can help your business get off to a successful start.