Microneedling Training Course
Microneedling
Training Course
Welcome to Emma Coates Microneedling Training
We have been delivering microneedling training courses for over 10 years and believe we are the best microneedling training company in the UK. We have access to the best microneedling products in the UK if not globally. It is essential for this treatment to use the safest methods, the correct products and have excellent knowledge to effectively deliver this treatment to your clients. We will continue to support you after you have completed your training, with our team of experts.
What is microneedling?
Microneedling, skin needling or collagen induction therapy leads the way in skin rejuvenation. Safely delivered this treatment carries no risk or downtime to the client. It is a procedure whereby a device, such as a dermaroller or an automated pen device, is passed across the surface of the skin creating superficial punctures that stimulate a healing response.
We work with South Korean microneedling range GENOSYS and as part of this course we will cover appropriate products from this range. Skills and knowledge from this course will be transferable to other brands.
We cover mainly treatments for the face, although we touch upon hair & body treatments.
Please read on below to check your qualification are sufficient to attend this microneedling course…
Pre-Requisites For Microneedling Training
NVQ Level 3 in beauty therapy, ITEC or HND
nurse, dentist, doctor, pharmacist
If your qualification does not appear, please do enquire, but your qualification does need to be within the health and beauty sector.
Please note – We are sorry if you do meet the entry-level and can therefore not take our course. Our accrediting bodies for insurance will not accept your application. (We do offer VTCT NVQ Level 2 & 3 courses.)
Course Agenda
Revision of Skin A&P
Skin Health
History of skin needling
Science behind skin needling
Treatable skin conditions
Products and ingredients used during treatment
Consultation
Contraindications
Aftercare
Introduction to Dermafix Automated Pen Device & LED
Hands-on practice
Q & A
Marketing Advice
Course Information
This is an intense 5-hour course.
All groups are kept small and 2 trainers are always on hand.
No pre-course materials are necessary.
We encourage you to have a treatment on the day, at no extra cost.
Please dress comfortably, uniform is not necessary.
Lunch and refreshments are provided.
Limited SPACE Only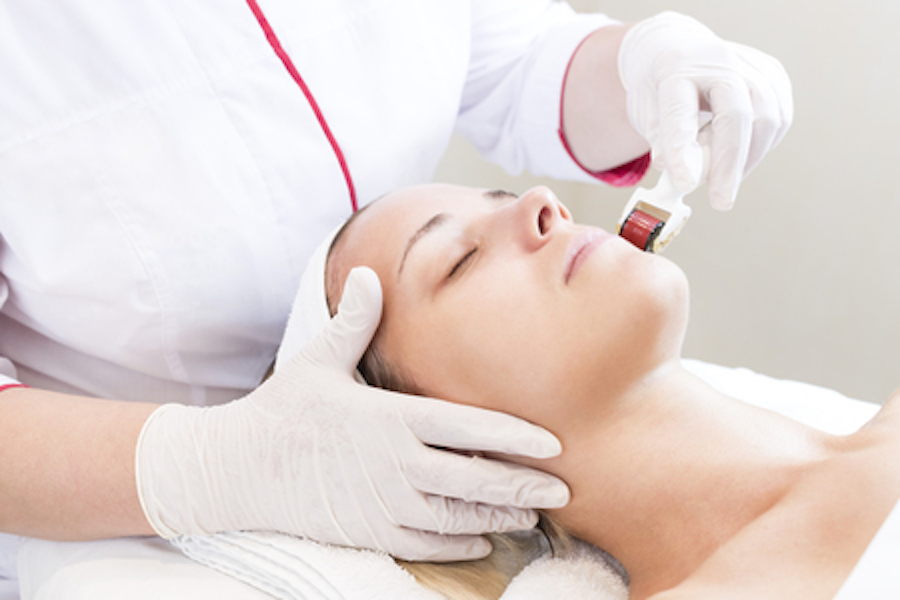 Microneedling is a skin rejuvenation procedure whereby a device is passed across the surface of the skin creating superficial punctures that stimulate a healing response.
Course Summary:
5 hour intensive training course

50% theory and 50% practical

Includes complimentary treatment (as a training model), training manual and certificate of completion
Watch the below video for an overview of an automated pen treatment
Additional information for microneedling training
On The Day
You will be provided with a training manual
 Starter kits are available to purchase on the day or prior to training : EC Training work with Genosys a South Korean cosmeceutical/microneedling range.
All products can be found at www.skinhealthsolutions.co.uk please contact us for trade login.
A certificate is given at the end of the day after supervised practice of the microneedling treatment is achieved to a satisfactory level.
Insurance
We work closely with providers Towergate & Hamilton Fraser
Also, many other providers such as BABTAC, Holistic Health & Cosmetic Insure will offer cover on completion of this course. Check firstly with your current provider as they may be able to add microneedling to your current treatment list.
Finally, We are an independent training company, accredited by ABT and a recognised training company by Hamilton Fraser. We have an expert team of extremely knowledgeable educators.
Open Door Policy
If for any reason you feel you the need to return for further training we are more than happy to facilitate this within 3 months original training
We have a fully manned office and are at the end of a phone line or email and will endeavour to respond to any queries immediately or within the hour.
Lunch is provided | You will be given a training manual and a certificate | Starter kits to purchase.
EC Training work with Genosys microneedling range.
All products can be found at www.skinhealthsolutions.co.uk please contact us for trade login.
How we use microneedling
We train our delegates in the use of dermaroller and automated pen devices.
All microneedling products in our training are created by leading South Korean brand, Genosys.
A professional microneedling treatment is intended to cause a degree of trauma to the skin.
This trauma stimulates new collagen cells in abundance.
The ageing process, low body weight, regular intense exercise, smoking, drinking, diet and the environment all impacts collagen and elastin.
By creating 1000's of minor wounds the skin begins to heal itself, as would any wound in 3 stages.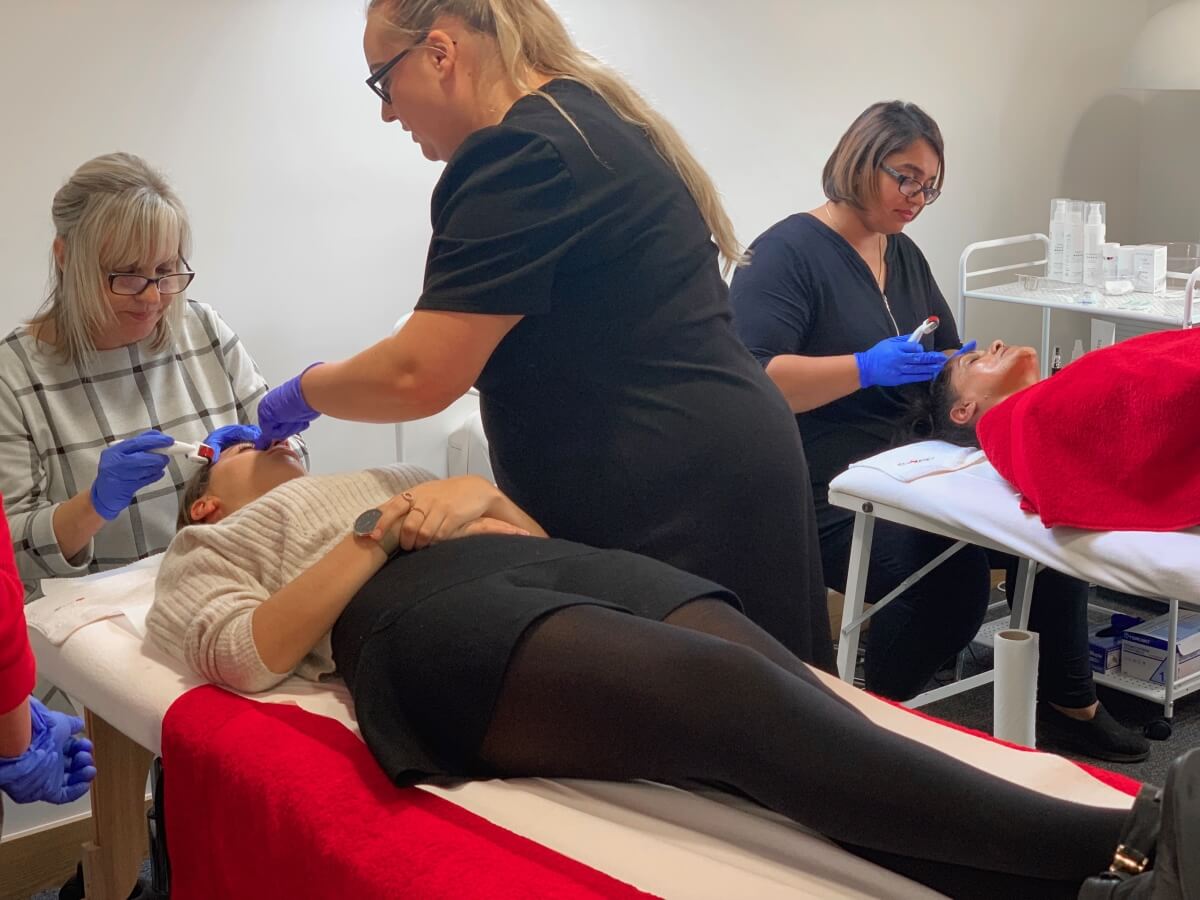 Overview for microneedling training
This is an intense training course and we are experts in the field of microneedling.
You will receive an extensive manual with ample further reading.
We will also cover some aspects of LED (low level light therapy). LED's make the ideal finish to a microneedling treatment. LED will reduce inflammation in the skin following any advanced skin therapy treatment. We do not certificate this aspect of the course.
We train delegates to use a 1mm needle length for a face treatment. For body treatments we train you to use 2mm. (Beauty therapists will need to check with their insurance providers what needle length they are covered to use.)
Microneedling starter kits
Starter kits are available to our course delegates.
These can be purchased either on the day or in advance of the course. These are not compulsory and our microneedling course is generic.
However, these kits offer everything required to commence treatments on clients immediately.
For prices on kits please visit our Dermafix start kit here and our dermaroller kit here or click the buttons below.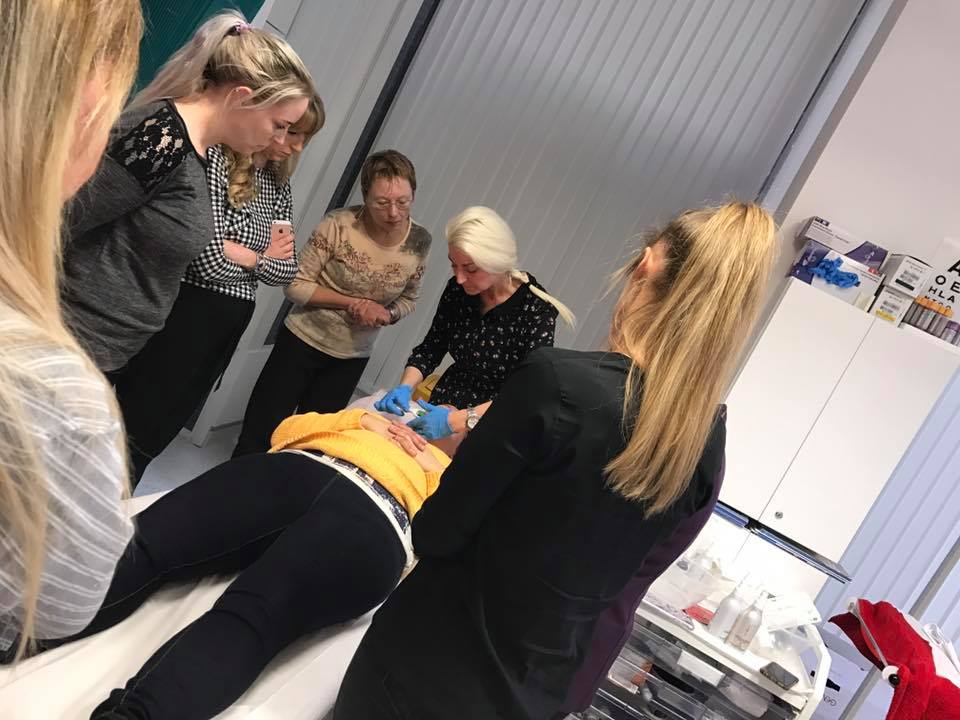 Lets get social
See what our customers are saying about us on social media



Fun facts about our amazing clients
5 star Facebook and Google Reviews
Over 1000 skin therapists trained by us from the UK and overseas
Would recommend to a friend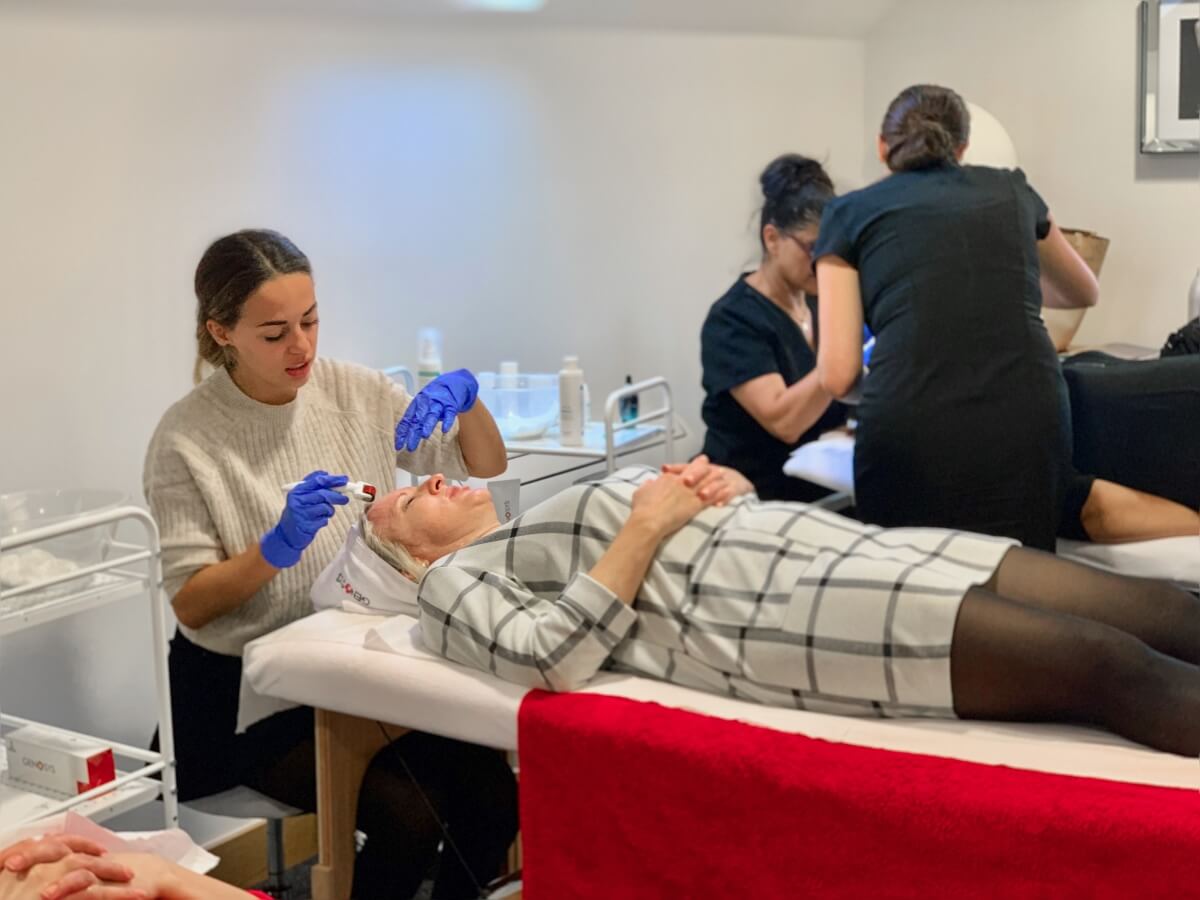 What does

microneedling

treat?

By adding microneedling to your business you will be able to advise, diagnose and treat numerous skin conditions. Our training will help you to become a skin expert, if you not already one.

Below are some skin conditions & skin concerns you can treat.
  Fine lines & wrinkles
  Loose Skin/ lack of firmness/ lack of elasticity
  Ageing skin
  Sun damaged skin
  Pigmentation issues
  General scarring
  Brown spots
  Acne & chicken pox scars
  Cellulite
  Pore size
  Under-eye bags
  Stretch marks
  Skin texture
For any additional reading please visit the following microneedling journal – click here
What devices are available in the market place?
As part of our microneedling training course, we will introduce you to an automated pen device. This device takes microneedling to another level. Multiple needle lengths in 1 device and multiple speed settings.
We use the Genosys Dermafix pen. We believe the Dermafix pen and cartridges are extremely competitively priced. The Dermafix is safe and simple to use. There is no risk of cross contamination.
The Dermafix automated pen device features 16 medical grade, stainless steel sterilised needles, allowing for quicker and more thorough treatments.
The Dermafix features multiple needle lengths per treatment: 0.25mm-2mm and various speed setting from 1-9.
This kind of automated pen device allows for flexibility of use within a microneedling treatment.
Also, this allows the user to deliver a more targeted treatment, ie shorter needle length for more sensitive areas (eyes and top of lip).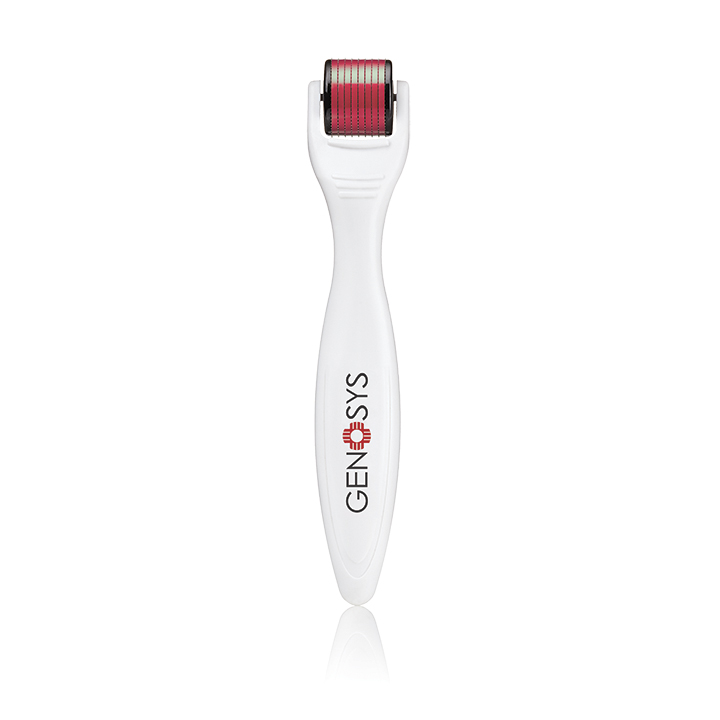 What is a dermaroller?
Members of the general public and certainly practitioners will now be very familiar with the term Demaroller.
Dermaroller is an incredibly popular skin needling device.
It is a cylindrical drum shape surrounded by microneedles.
The device creates micro injuries and micro channels in the skin when rolled upon it. These micro channels allow up to 80% absorption of specialist serums to work at a cellular level targeting specific skin concerns.
The mild trauma causes a cascade of events to take place. Improving cellular activity and an abundance of new collagen cells. All resulting in more youthful, better textured and an even skin tone.
What can microneedling training do for your business?
Microneedling treatments are simple, safe and quick to apply to clients.
Short treatment time, each treatment lasts around half an hour.
High profit margins are available.
Stimulates the production of elastin and collagen in the skin without causing damage.
Microchannels created by minuscule needles enable greater absorption of active ingredients into the skin creating better results for your clients.
These superficial breaks created by your microneedling device boost the skin's repair system resulting in firmer and younger looking skin.
We will provide marketing ideas and costings of treatments.
Increase your customer base by adding on advanced skin treatments that really do work.
No case studies, so straight to delivering these treatments to clients.