Get Certified | Grow Your Business | UK's Top Trainers
Dermaplaning Training Course
Get all the Training You Need to Expand Your Business and Deliver Superior Results.
Get Certified within one day
0% Finance available
Starter kit included
Work with world leading skincare brand Genosys
Groups kept to four or less for more one to one time
Continued aftercare support with our team of experts
Add cutting edge techniques to your portfolio
Duration: Half Day (4 Hours)
Price: £400.00 +VAT
⭐⭐⭐⭐⭐ 5 Star rating across Facebook and Google based on 101 reviews
Since 2011
Expert Educators
0% Financing
Helping Startups to Established Businesses
OUR STUDENTS LOVE US
We have been delivering dermaplaning training courses for over 10 years and have some of the UK's best trainers delivering our dermaplaning training course. We have access to the best skin care products in the UK if not globally.
It is essential for dermaplaning treatment to use the safest methods, the correct products and have excellent knowledge to effectively deliver this treatment to your clients. We will continue to support you after you have completed your training, with our team of experts. This is a short 1/2 day training course with kit included in the training fee. All skincare products are from the Genosys range.
This half-day course will equip you with all the skills you need to include dermaplaning in the skincare therapies you can offer clients. This is an increasingly popular treatment that must be administered correctly with trusted products, and our qualified professionals will give you the confidence to perform the therapy to the highest standards.
WHAT IS DERMAPLANING?
Dermaplaning is an exfoliation treatment that removes dead cells from the upper layer of the skin. Using a surgical scalpel to gently 'shave' the surface of the skin, dermaplaning also removes fine vellus hair, often referred to as 'peach fuzz' from the face.
Taking only 30-minutes to carry out and with minimal downtime for the client, dermaplaning is a treatment performed on the face, although it is not a method that should be used for shaping eyebrows.
DERMAPLANING BENEFITS
Dermaplaning is great for
Vellus hair (peach fuzz) removal
Exfoliation
Improvement in acne scarring over time
Fine lines and wrinkles
OUR INSURANCE PARTNERS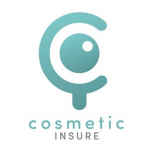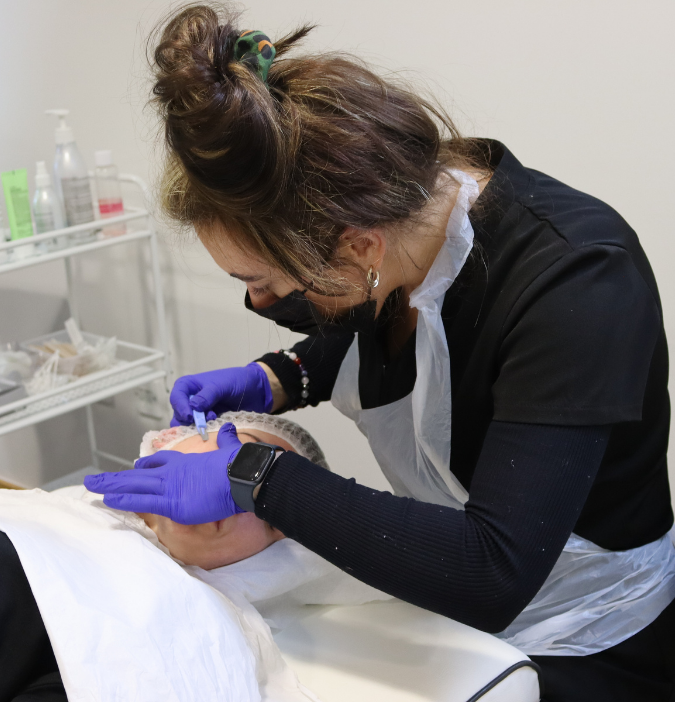 Overview
Removes surface dead/keratinised skin cells.
Removes unwanted facial hair, skin has a nice, healthy glow.
Skin feels incredibly soft and smooth.
Non-traumatic method of skin rejuvenation.
Can accentuate facial features and make clients look slimmer.
Can be used in pregnant women who may be contraindicated in other treatments such as chemical peels etc.
Make-up glides on effortlessly for a flawless finish.
Allows topical treatments to be absorbed more readily into the deeper layers of the skin.
Exfoliation treatment of choice for extremely sensitive skin, redness or rosacea, or visible facial veins.
Please speak to your insurance company to make sure they will insure you for dermaplaning. If not we have a few insurers that will look at it for you.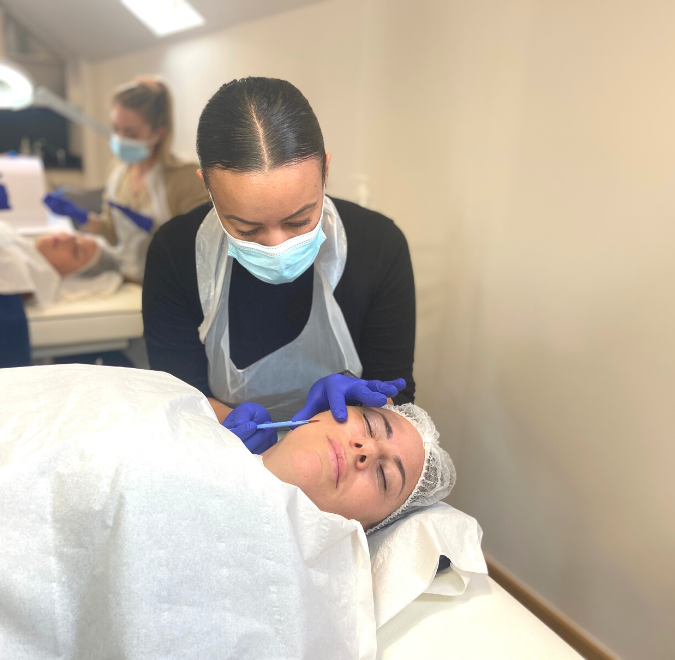 ON THE DAY
10:15am – arrival with welcome hot drink and selection of other refreshments
10:20am – begin theory
11:45am – refreshment break
12pm – begin practical, working on one another, models not required!
1:45pm – finish
2pm – finish off with product knowledge & aftercare, products available to purchase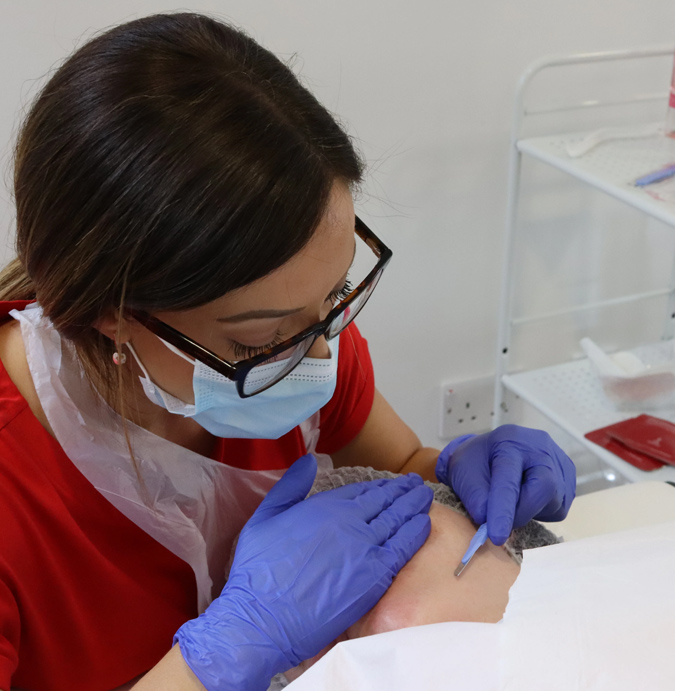 Why introduce dermaplaning into your business?
Dermaplaning as a treatment is becoming incredibly popular in the UK. The main reasons for this are that it can be performed in under 30 minutes, results are instant and it treats various skin concerns all at once.
You can expect to charge anywhere from £45 – 75 for the treatment.
Dermaplaning can be sold as a course of treatments to
Works great with LED light therapy as an upsell to maximise revenue.
A fantastic treatment to easily sell to existing customers.
Attract new customers with a treatment that is gaining mainstream exposure and growing in popularity.
Book Course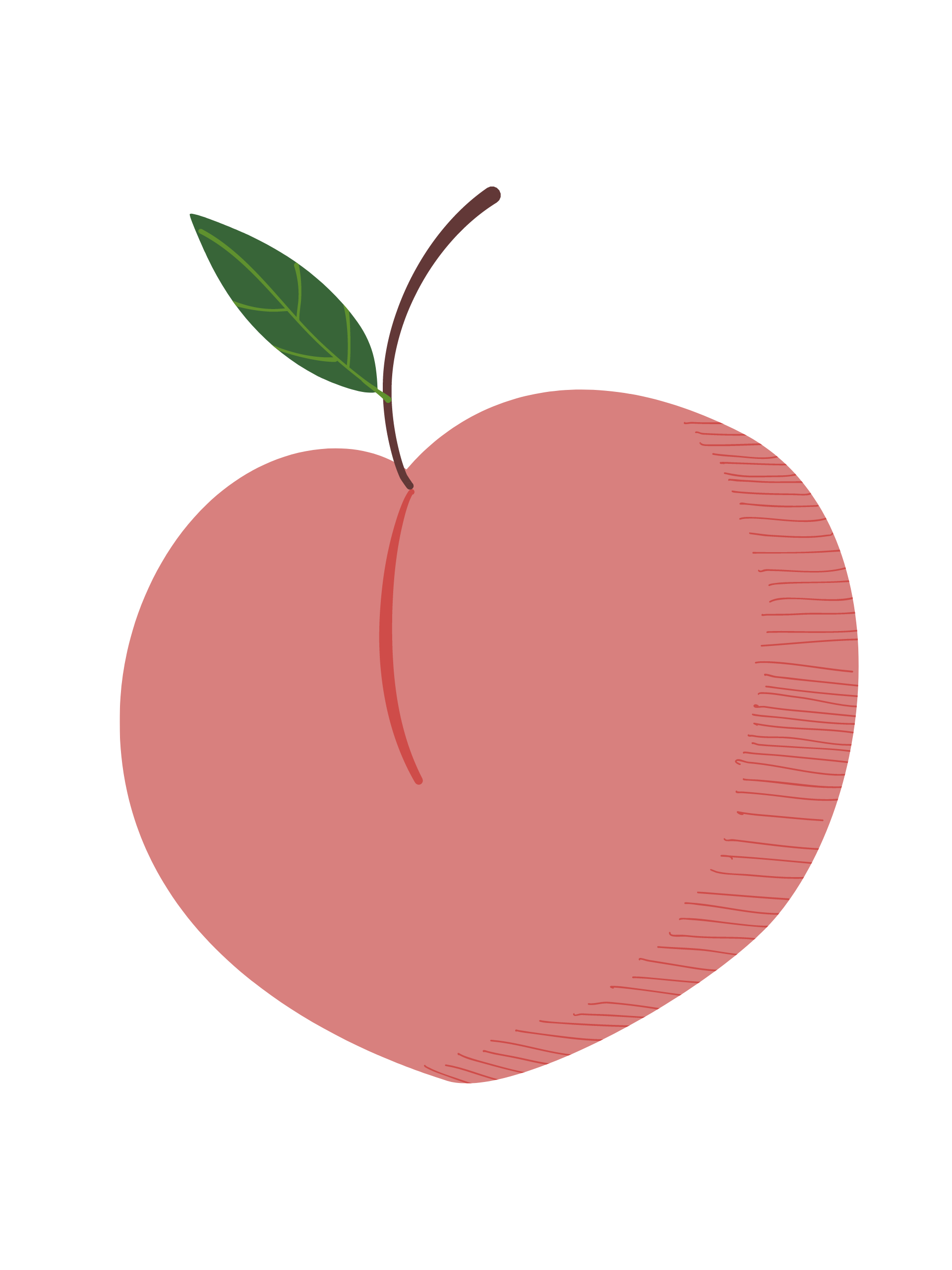 Why is removing peach fuzz beneficial?
A common misconception with dermaplaning is that removing the vellus hair, or peach fuzz, is purely for an aesthetic benefit. Although this is true and that many women enjoy the appearance of their skin post treatment, peach fuzz removal can give us cleaner and healthier skin.
Dermaplaning helps skin health because the fine vellus hairs trap debris and oils giving the skin a dull appearance. By removing peach fuzz this promotes cleaner healthier skin.
After dermaplaning skin care products and treatments are able to penetrate the skin more effectively.
Book Course
FUN FACTS ABOUT OUR AMAZING CLIENTS
5 STAR FACEBOOK AND GOOGLE REVIEWS
OVER 1000 SKIN THERAPISTS TRAINED BY US FROM THE UK AND OVERSEAS
WOULD RECOMMEND TO A FRIEND